Coffee with attitude!
Everything about this little Hill End Cafe is in your face. Alberto is the brash diminutive passionate owner, and he and his staff are deservedly proud of what they serve.
Beautiful pastries and morsels abound and it's hard to decide on just one to accompany your perfectly crafted coffee. As always we ordered a double shot flat white, but a-typically it arrives sporting it's own set of balls. This is a strong coffee by any standards, not bitter, not bad - just strong! The setting of this out-of-the-way Cafe is great, Alberto and his team making jokes, laughing in the background, and surrounded by quiet leafy inner city suburbia. The more reviews we do the luckier I realise we are in West End. Thanks for a great coffee.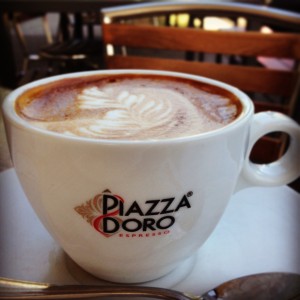 | | |
| --- | --- |
| Crema | |
| Milk Bead | |
| Did we feel the love | |
| Flavour | |
| Presentation | |
| Overall | |
Albertos Shot Espresso Bar
462 Montague Rd, West End, Brisbane QLD 4101
Mon-Fri 6:30am-2:30am
Saturday 7:30am-2:30pm
Sunday 7:30am-2:30pm
Phone 3846 2270
Web albertosshot.com.au
Coffee by Piazza Doro