If this veteran of West End cafe heritage is anything to go by, the halcyon days of quirky unique dining have truly died (thank god you only have to walk 20 meters to "the Burrow" to have your faith renewed).
This once great West End institution is starting to feel worn around the edges, trading off its history and not adding anything worthwhile to their repertoire. A dozen years ago, this was one of Brisbane's best cafe's and now it feels like well rehearsed same-same dining. The coffee like the food feels soulless, top dollar for mid level just isn't what we are looking for these days. The staff are nice, but it is simply not delivering at the previous level we were used to. Even the signature dishes such as the Canadian Brioche has shrunken down to a diminutive shadow of it's former self... anyway... enough bitching, this is a coffee review.
The coffee is well enough extracted from Merlo beans and offers a full bodied flavor that you would expect from a fresh brew, but for over $5 for a double shot it's a complete farce. I'd expect that pricing if the beans were individually hand picked from the anus of an exotic relative of the mongoose but not from a roaster two suburbs away, get over yourselves PLEASE!!! If it's coffee you're after with some real West End character, you would be better served at any of the other establishments reviewed within this site.
I guess the upside to this slow demise is you wont need to queue for a seat like you did a few years ago. The Gun Shop is shooting blanks as far as this reviewer is concerned.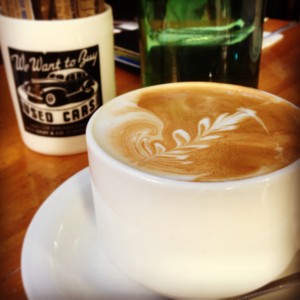 | | |
| --- | --- |
| Crema | |
| Milk Bead | |
| Did we feel the love | |
| Flavour | |
| Presentation | |
| Overall | |
The Gunshop Cafe
53 Mollison St
West End, Brisbane QLD 4101
Breakfast
Mon-Fri 7am-11:30am
Saturday 7am-2:30pm
Sunday 7am-2:30pm
Lunch
Monday-Fri 12:00pm - 2:30pm
Saturday & Sunday 12:30pm - 2:30pm
Dinner
Tues-Sat
5:30-late
Phone 07 3844 2241
Web thegunshopcafe.com
Coffee by Merlo