Pure win all the way!
Since opening in November, Plenty has been steadily gaining a following from quite an eclectic clientele. Weekdays there are all types of customers, ranging from bohemian to business types. I can only guess that this diverse demographic shares the love of good food. For now, I'm just glad that not too many people have discovered the joys within ( I'm not a huge fan of queues) but this phenomenon is sure to end. Set on Montague Road and nestled amongst other commercial properties it's quite inconspicuous, but well worth any effort to find.
The ethos behind the "Brand" is to source the best product they can find, treat it well and keep it simple. There must be a mix of extraordinary talent here, as everything they make is absolutely delicious. From salads to the sweets behind the counter, it all bursts with the flavour that only fresh quality allows.
Excuse my lyrical waxings, I do realise we're all about the coffee so lets talk beans. The Beans are roasted in Sydney by a new roaster called "Eco", the brew it creates I would describe as having a medium body with medium acidity and displays a dark slightly nutty flavour with a strong finish. The coffee is well made and served without flourishes, of note however is the muscovado sugar on every table that accompanies it. The sugar is unrefined and of course irregular constancy, adding a brown sugar/molasses flavour to the brew.
In summation if you find yourself in West End or around South Brisbane, you will want to find time a plenty for the delights of Plenty.
The Ratings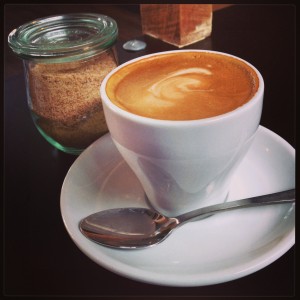 | | |
| --- | --- |
| Crema | |
| Milk Bead | |
| Did we feel the love | |
| Flavour | |
| Presentation | |
| Overall | |
Plenty
284 Montague Road
West End, Brisbane 4101
Phone 07 3255 3330
website