Ahh The Burrow, what can I say about this place? I must confess, I love coming here, the food is great, the atmosphere is great and the people are, yep you guessed it, great.
As you enter the front you are greeted by warm wooden surroundings, the walls are covered in pages from comics of all sorts and the music is a mix of groovy, chill out tunes that makes you want to stay just that little bit longer.
We arrived for our coffee at 8:30 am on Thursday, skipping the office blend we were certainly in need of a nice strong cup and we certainly weren't disappointed. When the coffee came to the table it looked fantastic, a lovely coffee brown colouring of the crema with a nice free pour leaf on top.
I'm a big believer that when a coffee arrives it should be at a drinkable temperature without needing to wait for it to cool down, in this case The Burrow got it spot on. The flavour was very strong but not overly bitter which in my opinion is a great coffee to start the day with, especially as it is only $3.50 per cup. There is a subtle aftertaste which makes it smooth when finishing.
As some of West End's older spots seem to lose a bit of that edge they had, The Burrow started with what seems like a mix of ideas, jammed them all together and have not looked back. It is fantastic to see them thriving after only being open for a short while.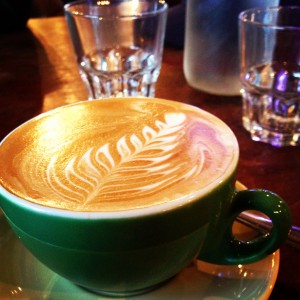 | | |
| --- | --- |
| Crema | |
| Milk Bead | |
| Did we feel the love | |
| Flavour | |
| Presentation | |
| Overall | |
The Burrow
37 Mollison St West End, Brisbane
Tues - Sun | 7am - late
Phone 07 3846 0030
Web theburrowwestend.com.au
Coffee by Coffee Roasters: coffee.com.au
Blend: The Burrow house blend