My mouth feels alive!
Its been an hour since my last coffee, I haven't had a coffee for 18 hours and my mouth still feels alive, I'm so emotional I feel like dancing and singing across the slopes of an Austrian mountain.
Ok, perhaps you're thinking I'm a little over-the-top with my superlative references to appalling musicals? All I'm thinking is I came out of the gate too early with our first 5 star coffee review at Posto. As deserved as the 5 beans were, I think we've set a new bench mark today at Plantation Coffee Roasters.
We tried two blends that were roasted "in house" by the owner/barista. The house blend to start and then the single origin Guatemalan to round off the morning. Normally I don't do two coffees back-to-back as it only accentuates my known addiction, but we decided to make an exception in the interests of proper scientific evaluation (you understand).
Both coffees were caffeinated perfection, with very different taste profiles. They were served at exact drinking temperature, fine bead dense rich milk, chocolaty caramel crema and even a beautiful heart shaped rosetta. This kind of coffee can not be found on any street corner, it is a product only made possible by passion, dedication and possibly some kind of obsessive disorder. I could go on here and describe the nutty overtones, fruity after taste, etc etc, but really you need to stop what you're doing right now and find this out for yourself. Plantation is all about the coffee so the food offering is basic, but they do takeaways so you could always take your mountain to Muhammad.
How much for a cup of this delicious brew do I hear you asking? Unlike certain other cafes in the area which will go unnamed (The Gunshop Cafe), the price was a more than reasonable $3.60. This highlights the mockery of sub par overpriced coffee to be had no more than 500 meters away.
This place is pure West End gold, go get your fix today!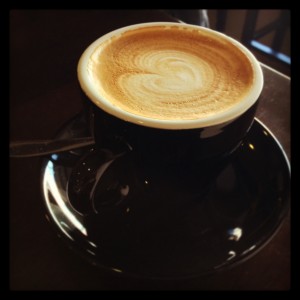 | | |
| --- | --- |
| Crema | |
| Milk Bead | |
| Did we feel the love | |
| Flavour | |
| Presentation | |
| Overall | |
Plantation Coffee Roasters
140 Boundary St
West End, Brisbane QLD 4101
Phone 0421 102 762
Plantation Coffee Roasters on Facebook